IDA Image Search Help
Simple Search
Just type what you want to find in the
Search Text
box and click
Simple Search
. This will give a broad response for your search.
Search text is not case sensitive.
---
Advanced Search
There are two Advanced formats selected by the
Format
button.
---
Format 1 - multiple text entry boxes
Enter your desired search terms in each relevant field, then click the
Advanced Search
button.
See below regarding
Options
.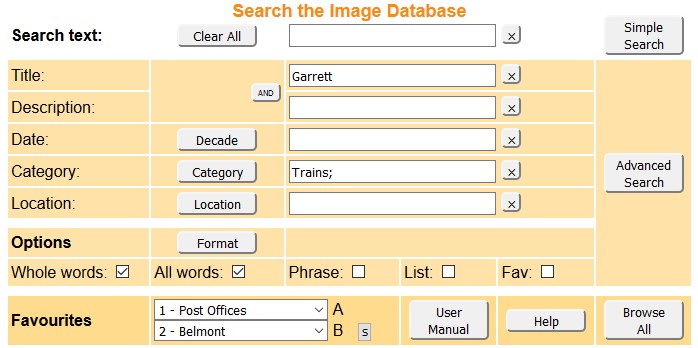 Note: the Favourites facility shown is only available to registered users.
---
Format 2 - single text entry box
Type what you want to find in the
Search Text
box and then use the
Search Fields
and
Options
areas to be more specific.

Search Fields
check boxes select which database fields are included in your search. eg only search in the Title and Description (as shown).
---
Options
allow you to control how the search field(s) is applied. They are the same for both Advanced formats.
Whole Words
Stipulates that only whole words are matched - ie will not find 'ball' in 'balloon'
All Words
If more than one word is entered, each of the words must be matched.
Without All Words any one of the words will return a result - eg an entry with 'Kurrajong' but not necessarily 'school' will match the search.
Phrase
The words must appear together in the order entered - eg use Phrase if you want to find 'Kurrajong School' but not 'Kurrajong Primary School'.
List
The results will be presented as a list rather than thumbnails.
Fav
Search within a Favourites List. Only available to registered users.
---
Browse All
Allows you to browse through all images from a random starting point.
Refer to the
IDA User Manual
for a more in depth discussion.